Making those first steps into the jewellery industry can seem a daunting task. Whether you have just completed an intense silver making course at your local college, or perhaps friends have managed to inspire you to start a small eCommerce business to sell your handmade glass necklaces. Regardless of your intentions or your expertise in the jewellery industry, turning jewellery hobby into a business can be a daunting task for beginners.
Being good at making jewellery, does not necessarily mean that you have the skill set to go off and create a flourishing arts and craft ecommerce store. To help, however, we have put together four top steps for you to follow to create a solid foundation for your business and get you off on the right foot. 
Keep reading to discover our recommended tips for turning a jewellery hobby into a business.
Step 1 – Market Research Is Essential
When it comes to turning jewellery into a business, first we recommend to take some time to conduct much needed market research. This research can include looking around to see what other people are selling and their prices that they offer. Competitors who are selling a similar product might have a larger production line and can afford to sell their product for a lower price. This factor should be considered when evaluating the market. 
A key factor by conducting market research and that could be to highlight an area where you can market your product. It might be that your homemade silver rings are a familiar sight in artisan markets and local shops, however, would be well suited to selling on Etsy or on a small Wix website. 
When it comes to market research, the more you conduct and the more knowledgeable you become, the more successful your business will be. Don't ignore the benefits of this essential task and take the time out in the early stages to help minimise any investment risk in the future. 
The role of market research can also be harnessed, helping you as a startup business to find any future trends and gaps in the market that you can squeeze yourself into. With the UK jewellery industry worth over £13.9 billion at the end of 2018, creating a successful business to try to capture some of these profits can be done through monitoring future trends. 
Unsure of where to start when it comes to reviewing future jewellery trends? Sites such as Google Trends allow you to search a term or keyword and see the changing search pattern. This form of searching for trends could highlight not just the number of searchers they are getting, but of a trend that is likely to explode in the short future.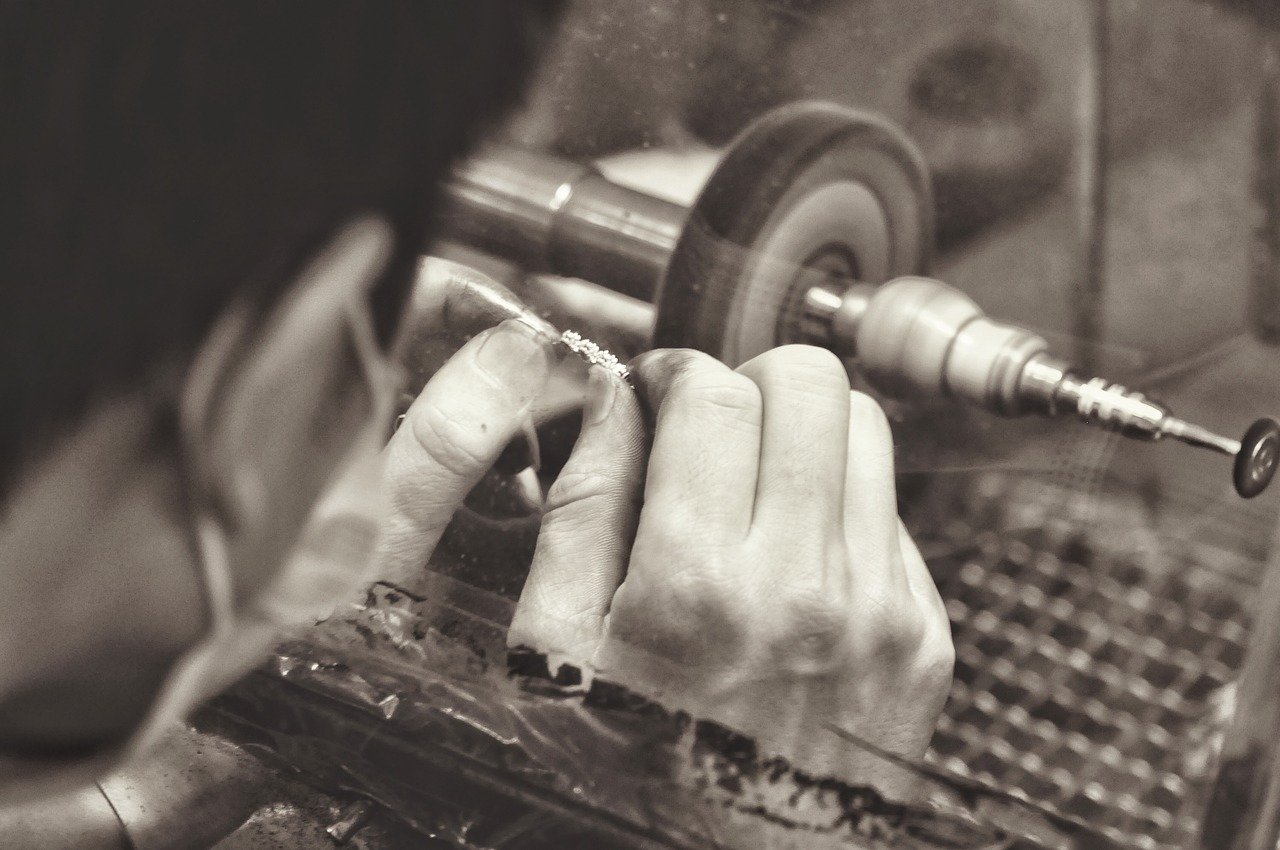 Step 2- Fund Your Business
You may find yourself asking the question, how much does it cost starting making jewellery? The answer is rather simple. It really depends on the amount of materials and equipment you need and the cost of those materials. In order to make a profit out of selling handmade jewellery, you need to keep the costs of vital equipment as low as possible. 
But, before you can start accumulating vital resources, first you need to review your finances and begin to purchase required materials. This you can do by finding funding. Whether through crowdfunding, a popular source for funding, or asking for investment from family and friends. 
Each small jewellery startup will require a different start up cost, and this will depend on the product you are attempting to sell and the key information you have gathered through your market research.
If you have put much time and effort into our recommended first step, done some comprehensive market research and developed a solid business plan, why not consider a bank loan? If the foundations of your business are solid and look successful and promise a profit, getting a larger funding from the bank could put your business in good step to develop and flourish within the early stages of startup. 
What many owners of small businesses fail to consider when creating a startup business and that is the cost of hours required to create the product. With money not just required for materials and marketing, instead payment of labour will also be required to create the product. Whether it is yourself who is making the product, or staff that you hire, wages need to be paid. An important element that you cannot forget about. 
Step 3 – Where Are You Going To Sale Your Wares?
When it comes to turning jewellery hobby into a business, you need to begin to successfully sell your handcrafted items. But where? Through your previously conducted market research, you should have gained an understanding of the popularity of certain channels for selling produce and areas where there is a gap for you to set up your business.
It might be that your local craft fair is the perfect location to set up a stall and start selling your jewellery. While for other craftsmen, there may be space and a particular niche that is not being satisfied and catered to on online marketplaces like Etsy and Not on the High Street. 
It is recommended that you start small, creating a solid base before developing and building a website to sell and market your jewellery business. Instead of rushing in all enthusiastic and desiring to build a website for your new found business, we recommend waiting. Wait until you have established a successful business and have a steady turn over before committing and investing in a website. 
For those requiring the quick and rapid selling of your homemade jewellery, we recommend a stall at your local market. This will see the instant selling of the product and a small and steady stream of income, vital in those early stages of a business.
If funding the cost of a stall at a market is out of your budget, consider pairing up with a fellow local business who specialises in a similar product. Not only can you share the pitch costs, but you can also collaborate and learn from one another. They may be a specialist in the jewellery business to and have valuable wisdom to share, or perhaps they have emerged, creating a successful brand. By talking, communicating and asking for business advice when you need it, you can learn, develop and get ahead. 
Step 4 – Time To Market Your Product
You have developed and mastered your skills at jewellery making and have taken to insure that there is in fact a market for you to begin to sell your product into. The time has come for you to begin marketing your product. 
Before you take to social media channels and blog pages, we recommend first that you conduct the essential task of reviewing your target audience persona. 
By creating a persona of your audience, you can create an effective marketing strategy and know exactly how to communicate with them.
This you can do by putting yourself in your audience's shoes, looking at what they like and dislike before communicating and finding them on their social media platform of choice.
When it comes to marketing and getting your business discovered by interested and an engaged audience, we recommend taking to Facebook and Instagram. Both these social media sites offer the opportunity to communicate, share inspiring photos and link back to your products for effortless purchasing and conversions. With a built in analytics service on each site, you can see when your followers are most active. This allows you to target your audience at the correct time of day, for maximum engagement. 
Although marketing is a vital element in helping to get your brand found, branding of your business is essential. 
Conclusion
You have the dream of turning your hobby into a functioning and profitable side business, but before you can start to see a profit, there are 4 recommended steps that we recommend all to follow.
With market research being a key and absolutely vital in every part of the creation of your new business. Without taking the time to see what else is out there and what your competitors are doing, can you discover where you should locate your business and whether there is space for your jewellery business in this ever stagnant industry.
Combine that with a target audience persona and a budget to get your brand up and running and you are on the path to success, this you achieve through the creation of a more targeted and precise marketing message. Helping to sell your products while building a brand at the same time. Something that every jewellery maker wants to see from the fruit of their labour.
What do you think of our recommended four steps for turning jewellery hobby into a business? We would love to hear from you and discover your first hand experience of creating a jewellery business for yourself.
Or if you're looking for help on your eCommerce site we know that Tillison Consulting is a specialist, in providing a range of eCommerce services such as WooCommerce, WooCommerce SEO, Shopify Shopify SEO and CRO for eCommerce.