If you're working hard getting a degree, likely, you're not spending a lot of time outdoors.
Most students walk to class, but beyond that aren't outside that often. It's understandable as there is so much to do when you're in school!
Although you may prefer to study non-stop to get it over with, that's not always in your favour. The truth is you'll absorb more by taking breaks.
Have a job that gives you work breaks? Go outdoors to exercise or just to get some fresh air. We guarantee you'll feel motivated to accomplish more! There are many benefits to going out in your work breaks, from weigh loss to illness and disease prevention.
In this article, we'll give you the scoop on why going outside more often should be a priority!
Here are the top benefits of going outside:
1. Improves Memory Functions
You'll be happy to learn that spending time outdoors can improve your memory.
The University of Michigan discovered walking in nature improves our attention and memory.
Getting outdoors for an hour or so is a form of meditation for your mind. If you're suffering from mental fatigue, making time for nature has many positive effects.
So, make time to go outside and pay attention to all that's around you. You'll be ready to get back to your studies feeling refreshed and get more stuff done!
2. Reduces Anxiety
If you're feeling anxious due to an exam or other stresses, that's common. But there's a solution. You guessed it — head outside!
Changing your scenery can reduce anxiety. By venturing outdoors, you'll naturally shift your focus and not worry as much.
At first, you may have a hard time taking your mind off everything. Take a deep breath and stay fixated on being in the great outdoors.
Focus your attention on some pretty flowers or make friends with the neighbours cat. These are all simple ways to distract yourself and make time to get away from life's stresses.
Any anxious thoughts will melt away. And in its place will be feelings of peace!
3. Opportunities for Exercise
Not only is it wise to go outside for fresh air, but getting exercise is also helpful. Forget an expensive gym membership (unless tuition includes it). You have a gym in the great outdoors!
You can walk a trailhead when camping or do a series of exercises while you're outside. If you're a runner, make a point to go on more runs!
And, if there are hiking trails in your area, get out and explore! You could find a path that you love and keep coming back to for future workouts.
Going outdoors doesn't have to be a considerable workout activity. So, don't let the word exercise scare you away.
But, if you happen to get exercise while enjoying being outside, that's even better!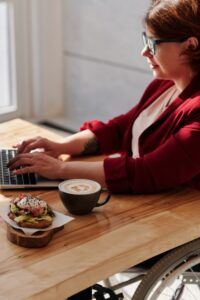 4. Enhances Creativity
Do you want to get your creative juices flowing? Then spend more time in nature!
Sometimes being outside is the perfect cure for writer's block. And if you're an artist finding the ideal landscape can inspire your next painting!
If you're already an outdoorsy person, then be on the lookout for other ways to get inspired.
Go to a new scenic location and bring a friend along. There are always new sights to explore that'll encourage you (and your friend as well)!
You can also enjoy a beautiful hike or read a good book outdoors. You'll no doubt get inspired and will be dying to go outside for more motivation.
5. Gets You a Dose of Vitamin D
Spending time outside exposes you to the sun. And exposure to the sun's rays equals a healthy dose of vitamin D!
Believe it or not, but many people have a deficiency in vitamin D. To prevent deficiency, spend some time outdoors daily.
Of course, you should still be careful. It's important not to get too much sun.
But, it's healthy to get 10–30 minutes of midday sunlight several times a week. You may want to do more or less, depending on how light or dark your skin is.
Still, it's essential to wear sunscreen when you're outdoors. Get your vitamin D while keeping your skin healthy too!
6. Chances to Be Social
Even if you go outside by yourself, coming across other people is nice. Venturing outdoors encourages you to greet people with a smile and focus on the world around you.
If you want to bring a friend to enjoy nature with you, that's an option too! Invite a friend to go on a bike ride, hike, or have fun doing another activity.
You might have a large gap of time in-between your classes. If so, this is the perfect time to play a game of volleyball or basketball, or chat and catch up with your fellow colleagues.
Invite a group of friends for a game of hoops. This is the ideal time to get outside and enjoy it!
7. Makes You a Better Person
One benefit of going outside is that being in nature also makes you a better person.
Are you wondering how that is so?
It helps us put aside feelings and focus on being thankful.
Say if you're feeling down and out about something that's happening in your family. Being outside can help you relax and think more positively about the situation.
It can also lead you to become introspective as you reflect on life. You may find yourself cherishing your relationships and community more!
In Conclusion
In closing, the University of East Anglia did a study. Their research was about the positive effects of spending time in nature.
They gathered research from 140 studies from all around the world. From their data, they found that there are many benefits of being outside.
Specifically, favorable effects include a reduction in cardiovascular disease and type II diabetes. And, as we discussed, it can help reduce stress!
Not only does going outside improve your health, but it results in you feeling more relaxed. The advantages of going outdoors are endless!
So, in case you're feeling doubtful of these positive results, spend time in nature to see for yourself.
Get outside today, and you, too, will experience a vast array of benefits!
Author Bio:
Aaron Hunt is the Property Manager for The Urban, a student housing community near Ohio State University.