When selling your home it is important to make every space look appealing to potential buyers.  A small bathroom can often be one of the rooms that can prevent the sale of your property. Think LED bathroom mirrors, candles and a new lick of paint.
Be inspired by our 7 Big Ideas to make the best of what can sometimes be a dark and uninspiring space.
Idea #1
Stick to one colour.  Painting or tiling everything in the room the same pale colour will make the room feel larger; ceiling, floor, and walls.  White glossy tiles and surfaces will reflect light and expand the space.
Idea #2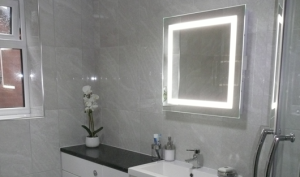 Add mirrors and other reflective accessories to bounce the light around to brighten the space.  For a small space LED bathroom mirrors will provide an extra source of light and a touch of luxury.  Mirrored accessories are also an elegant addition.
Idea #3
Fill the room with different types of light, don't just rely on the standard overhead lighting.  Add lots of candles and lamps, consider fitting candle sconces on the wall or installing wall lights if you are short on surface space.
Idea #4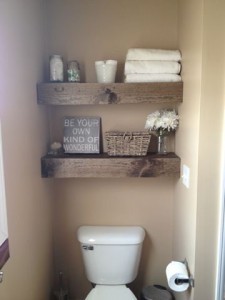 Be inventive with storage solutions.  Fit floating shelves above a toilet and add decorative baskets to customise the look.  Replace a mirror with a mirrored bathroom cabinet for additional, functional storage and for a bit of individual style use a wine rack for towels.
Idea #5
To banish the boring add an unexpected piece of furniture.  It will add masses of character to your small space and provide a focal point, which will distract from the size of the room.
Idea #6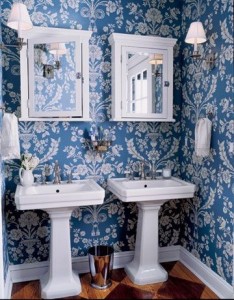 Wrap you little room with heavily patterned wallpaper.  The colour and pattern will brighten the room with excitement, distract from it being windowless and make a bold design statement.
Idea #7
Add life to your bathroom with plants and freshly cut flowers.  If you bathroom is windowless opt for shade loving plants that you can move around the house to grab a little sunshine from time to time.  A bouquet of fresh flowers can really brighten and bring to life an empty shelf or free surface.