Since the government announced their plans to increase the rate of Stamp Duty on buy to let and second properties landlords have been in uproar.
Property investors buying properties for the purpose of buy to let will be charged an extra 3% on top of the basic Stamp Duty bands from April 2016. This change is projected to raise funds for the Treasury to the tune of £880 million by the year 2020. It is said that these funds will be invested into the government's Help to Buy schemes.
Local estate agent Brian Linehan of Belvoir Lettings in Southampton highlights how this change will only increase the shortage of available housing and push up the cost of renting in Southampton. The story is going to be the same country wide.
The implementation of this additional Stamp Duty may also see house prices being pushed up between now and April 2016 as many investors rush to purchase buy to let properties before this new money making scheme is implemented.
Moving on into next year, once the increase has been implemented we are at risk at seeing a serious decrease in the amount of buy to let investment which could leave rental properties in short supply. This change in Stamp Duty delivers a harsh blow to the buy to let landlords that were investing their private funds to help combat the previous rental property shortages that began in 1996.
Here is what the new levels of Stamp Duty on buy to let look like: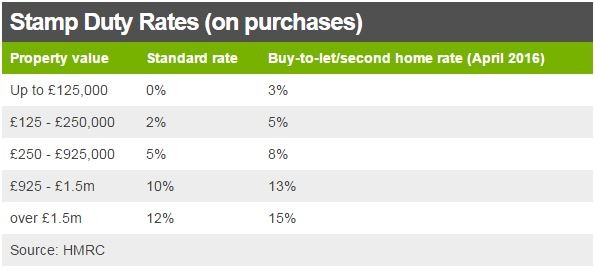 As if the extra charges of stamp duty on buy to let properties aren't enough, landlords are also being hit with a change in the Capital Gains Tax rules. Landlords will no longer be able to settle any Capital Gains Tax amounts at the end of the financial year. From April 2019, any amounts due will be payable within 30 days of selling a property. This again could potentially reduce the levels of investment from buy to let landlords.
Chief Executive of the National Landlords Association gave the following response to the impending changes:
"The chancellor's political intention is crystal clear; he wants to choke off future investment in private properties to rent. If it's the chancellor's intention to completely eradicate buy-to-let in the UK then it's a mystery to us why he doesn't just come out and say so".
If you are a property investor or buy to let landlord please let us know how you feel about these changes by leaving us a comment.