Well, January is here and our resolve to keep to our new year's resolutions is still strong, for the moment. For many of us it will be to give up smoking, lose weight or save money. For others it could be the whole package, the "new year new you" scenario.
This will often start with some major changes on the outside, one of the most obvious being a change of hairstyle or hair colour. What a treat, or so you would think.
If you are considering an update to your hairstyle it is very important to find a good, reputable hairdresser you know you will provide the service and treatment that you deserve. Making sure that all of the proper tests are carried out prior to your service is also very key. Failure to do so could leave you looking like Worzel Gummidge with a perm gone wrong or hair dye damage with a case for hair compensation on your hands.
This is exactly what happened to Mary Ingram on a visit to her usual hairdresser.  This is her story: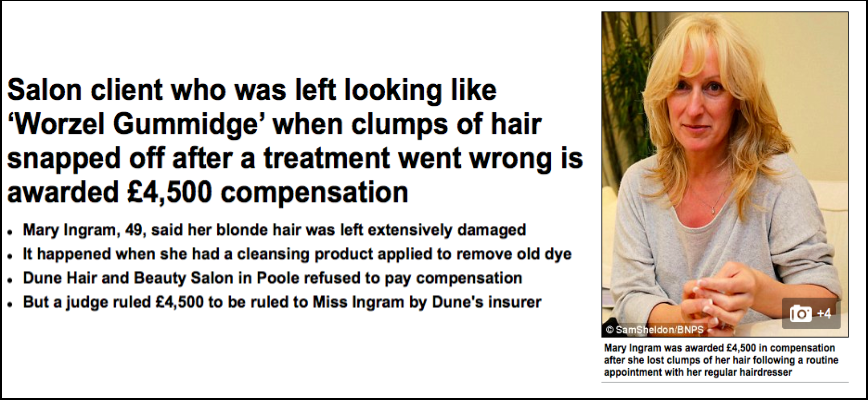 Mary put her full trust in her regular hairdresser when they offered her a treatment to strip some of the colour from her blond locks prior to her usual colouring treatment. What came next came as a complete surprise.
Mary left the salon happy, but a short time later her hair started to break off at the roots and fall out in clumps. She made complaints to the salon who were not willing to give her any compensation so the case was taken to court.
The case for Mary was that the treatment used was not applied correctly as it should not have been used on damaged hair, which Mary's would have been from repeated colouring. It transpired that an allergy patch test and stress test should have been carried out prior to use of the treatment.
Mary represented herself in court and won her case winning £4,500 in hair dye damage compensation.
Mary's message to all those having hair treatments is to make sure that you always have an allergy or patch test, even if you are using your regular hairdresser, to protect yourself against hair damage.
Has your perm gone wrong, or have you suffered hair dye damage in the past? Share your experience with us in the comments.