The past few months haven't exactly been the ideal weather to be lounging about in your hot tub with a drink in you left hand and a book in your right. In the hope that some sunshine might be coming our way shortly, could it almost be time to take the cover off and fire up the hot tub?
Here's hoping!
If you haven't used your hot tub in a few months you may find that it has lost some water. Before you go trying to carrying out any hot tub repairs yourself, take a look at these tips from UK Hot Tubs to see what they say about dealing with minor and major leaks.
The first thing you need to do is determine whether the leak would be considered a minor or major loss of water. Both can occur for a number of reasons so it is important to know what you are dealing with before trying to find a solution.
Water leaks are a problem that can leave customers very confused. With no obvious leak it is hard to judge what the problem is and where it is coming from. The first thing you need to remember with every leak is to turn the power off. If there is water leaking somewhere, you do not want your hot tub's electric panel to be exposed to any water, especially if you are in the vicinity. Even a small amount of water could be the difference between a simple repair and a trip to the hospital.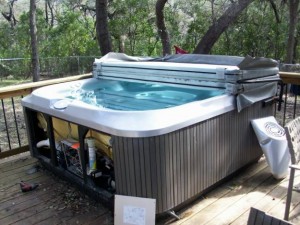 What to do if it's a minor leak? (Losing a couple of inches over a week)
After you have turned the power off you should remove the hot tub cabinet access panel.
Take a quick look around remembering not to poke around where the electrics are. There could be a number of reasons why your hot tub has a minor leak.
Once you have identified the source of the water, place an ice cream tub or similar underneath to catch the drips.
Replace all the panels you have removed and then return power to the spa.
Monitor the drip tray to see how much water is actually leaking and then contact UK Hot Tubs for more advice.
What to do if it's a major leak? (Losing a noticeable amount of water over a short time)
Do not attempt to fix yourself.
Turn the power off immediately.
Drain all the water from your hot tub. Most have a built in drainage system, but a submersible pump would be ideal.
Turn off the main power source to the hot tub. You should be able to find this in you fuse box.
Contact UK Hot Tubs to arrange for a technician to visit and resolve the problem.
Hot tub repairs are something that should be taken very seriously. Do not try and resolve large leaks yourself.
If you are having hot tub issues, contact UK Hot Tubs today for more information on hot tub maintenance and repairs.