When it comes to status and value, appearance is everything
Let me put it in context for you. If you were to spend a couple of thousand pounds on a tailor made, Saville Row suit do you think people would perceive your purchase in the same way if it was given to you folded up in a carrier bag? Or would they think you had got lost on your way back from the charity shop?
If you were to buy an item of jewellery or a watch for your partner how do you think they'd feel if you gave them it in a screwed up plastic bag compared to a beautiful jewellery pouch placed nicely in a rope handle carrier bag?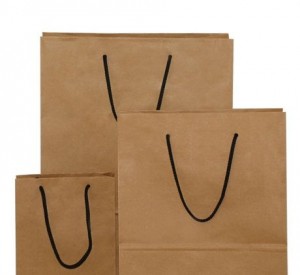 Perception of value is a simple yet effective tool when trying to portray certain values
The examples I have already given are demonstrating how the value of something expensive can decrease if poorly packaged.
But the opposite can also be true.
If you put your gym kit in a designer rope handle carrier bags people will not only make an assumption about the sort of social standing you have (bearing in mind they can't see what is in the bag)  what you do and what you earn. They will attribute values to you which may or not be true without even knowing what's inside.
Value transference
Value transference needn't work on such a scale as given in my examples it could simply be that you want your packaging to reflect your product and brand values.
With the amount of running around consumers do these days, bags which stand the test of time, and can be used again, and again will last much longer in the rotation of extra bags we use far longer than those which look cheap or which break easily. The longevity of a bag, if branded, will act like secondary advertising for your brand.
What assumptions would you make about a person with a carrier bag in comparison to a person with a designer bag?