What  is the typical impression of a portable building?  A Flat Roof?……..Jack Legs?……..Textured external finish?……. Green, Blue or Grey External Colour?
For decades the prefabricated Portable Building was typically associated with the Construction Industry where low cost and mobility were key considerations leading to the purchase of portable buildings or cabins as they are frequently called.
But with constraints on capital investment caused by economic stagnation over recent years, suddenly the low cost option of portable accommodation has become more attractive and manufacturers of portable buildings have developed a number of design changes to make their products look less like the typical impression described above and more like a permanent building.
So how is this done and how can you make your affordable Sports Changing Room look more like a bricks and mortar building designed to last for ever?
First things first, you need to find a good building contractor, who you can trust to complete the job well.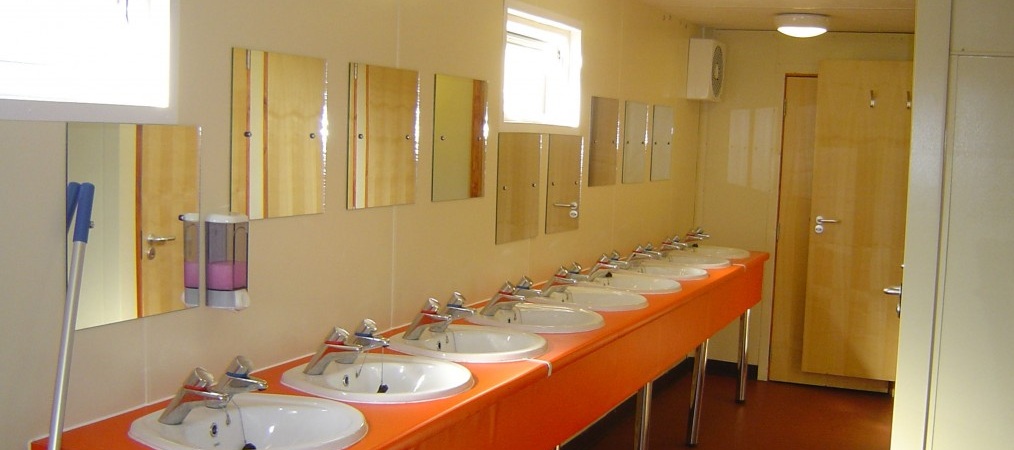 No more Jack Legs. The purpose of Jack Legs was historically to make it easier to level a unit on uneven ground, and also to facilitate the lifting and movement of temporary structures. But there is no reason why your Sports Changing Room building should be fitted with Jack Legs. Ask for your new building to be constructed on a Steel Frame Chassis which will then be semi-permanently sited on concrete pads, footings or strips to provide the level surface for your building.
Roof Options. The cost of fitting a Pitched Roof with tiles to your building is no longer exorbitant and the appearance immediately transforms to resemble a bricks and mortar building.
External Finishes. To make your portable building look like a brick or timber building just ask for a brick laminate finish. This can be a plastic or vinyl material applied to laminated plasterboard or plywood, or a design laminate applied to a steel covering, but there are a wide range of designs available to make you building look as you want it to look. In a built up area a brick finish makes the building blend it with other brick buildings surrounding it. In rural areas you may choose a wood grained oak laminated steel finish, or a cedar, larch or other real timber cladding to help your building blend in with the environment.
Increased use of glass. Typically, a portable building will have one glass window per side, so when discussing the design of your sports changing room with the manufacturer try to benefit from natural light by including more high level windows on the perimeter of the changing rooms, showers and toilets.
Landscaping.  Another easy and inexpensive way to help your building blend in with its surroundings and look more "permanent" is to surround it with landscaping.
Modular Building. Historically the design of Portable Buildings has been constrained by size limitation. Modular building allows your Sports Changing Room to be designed precisely like a permanent building with component parts being prefabricated in predetermined section sizes to be bolted and linked together on site. This eliminates all size constraints and virtually removes any comparison with a portable building.
To learn more about Sports Changing Rooms and how to make portable building look permanent, visit  http://www.sportschangingrooms.co.uk/