Ever-changing and developing over time, the way in which we use technology has improved and expanded. Not just changing the way we communicate, but also how we go about organising our daily lives. This dependence upon technology has also affected the consumer purchasing behaviours; by the way, we shop and spend our hard-earned cash. But why online shopping?
Not just reserved for weekends spent strolling along the high street. Instead through the use of technology and the ability to purchase from any location, at any time. Many of us are turning to our mobile phones to conduct our shopping of choice.
A powerful tool; the rise of the internet has not just changed our ability and the ease in which we can shop; but also consumer purchasing behaviours.
We will take a look at how consumer purchasing behaviours have developed over recent years; and some top methods that you can incorporate across your eCommerce site. Ensuring that you are marketing correctly to online consumer behaviours.
The rise of technology
Continually developing, not a moment goes by when a new app or device is not released; helping to improve and lighten the burden of 21st-century shoppers.
From the ability to click and collect to the one-click, buy it now button; by making sure that your site caters to the needs of the consumer you can be confident that you too don't miss out collecting those flaky customers. Who otherwise would have escaped the net that has been created.
The recent and slightly daunting rise in technology can not just be seen in the success of Amazon and same-day delivery, but also the popularity of online social media sites.
A free platform for marketing and brand building. When it comes to communicating and discovering; not just to your customers, but also their desires, social media should not be avoided.
Allowing you to interact, engage and build a brand, the creation of online social media commerce has been born. From Instagram, Facebook, with the ability to create pins on Pinterest. The apps add ease and convenience to your company's social media accounts and embrace the social media commerce for your prosperity.
Changing face of eCommerce shopping behaviours
A staggering 87% of UK purchases throughout 2018 were made online, a figure that shows the ease and the consumers acceptance of shopping within the digital sphere. What is most shocking is not the vast volume of purchases that were made online, but the percentage of which were later returned. With an amazing £7
billion pounds worth of online purchases being returned, it comes as no surprise that the simplicity in which consumers can return their order is a top choosing factor when deciding their eCommerce site. While a large selection of customers will choose a website based on their returns policy, others will be on the hunt for free delivery.
With a number of key online consumer behaviours; below are some of the most important eCommerce shopping behaviours that you should be exercising across your eCommerce platform.
Delivery
An important and influential feature when it comes to online shopping; the delivery price and time is key for scooping up those hesitant shoppers. With the customers' expectation of delivery speed being driven rapidly, customers no longer want to wait for their order. By focusing on your delivery service; it is recommended that you offer a large range of delivery options that cater to all needs.
Next-Day delivery has become the norm and for companies not seeing the desired growth in sales, we recommend expanding your delivery options and looking across the market to see if there is a cheaper alternative available.
When online shopping, the last thing that the customer sees and experiences and that is the delivery. Making sure that you offer an exceptional delivery service is key in turning your new customer into a returning shopper.
When it comes to costing your delivery service, make sure that your prices are competitive is a must; while free shopping will put you one step ahead of the competitors. Free delivery is key for those online sites seeing a drop in converting sales, with 80% of online shoppers favouring sites that offer free shipping.
While research highlights that one of the most popular reasons for an abandoned basket, is a high of a delivery fee. By making sure that your fees are competitive and honest you can scoop up those potential customers before they flake out during checkout.
Returns and exchanging of purchases
With £7 billion pounds worth of online orders being returned every year, the UK has a higher return rate than any other European country; the ease in which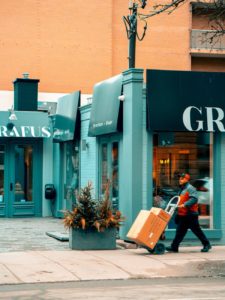 customers can return and exchange their order is paramount.
When it comes to researching your online shopping platform, by offering free order returns and hassle-free exchanges, you can appeal to a larger audience. A driving force for an incline in sales, nailing the returns policy can pay significantly.
With over half of clothing purchased online being returned, by offering free returns instead of asking customers to pay, you can leave a positive experience, inspiring them to return to your site at a later date.
Discounts and promotions
An important aspect when it comes to online shopping, research has shown that the staggering 80% of online sales were made through the persuasion of a discount or promotion.
Where it is to convert a returning visitor or to influence a new customer, through creating and promoting promotions, you can create sales that otherwise might not have existed.
For those unsure where to start with creating and offering promotions on their website; we recommend creating a discount for customers who sign up to your websites newsletter. Along with offering this for signing up, you are creating a potential customer and accessing contact details. And, with permission to contact, there is the ideal opportunity for communicating and remarketing in the future.
Mobile Commerce
As technology changes, so does the way in which we use it. No longer are we sitting down on our desktops. Instead, we are reaching out for our trusted mobile
phones. Whether to send an email or to conduct impulsive online shopping, the general population are frequently connected to their phones at all times.
By making sure that your site is mobile and tablet friendly, you can appeal to a larger volume of visitors, allowing them to access and navigate their way around the site while catering to the ever-changing consumer purchasing behaviours.
When designing a site for mobile and tablet, you will want to make sure the load speeds are fast. But also that the site continues to function with ease, regardless of the size and screen orientation.
Social Commerce
For those who have yet to hear about social commerce; this is best described as the ability to purchase goods whilst browsing within social media.
For customers who are browsing your Facebook page, by creating a shop on your account and linking items to the website, you can increase your revenue.
Social Commerce is a valuable tool and allows customers to see your product; before completing their purchase on their app.
For customers who spot your item whilst browsing across their social platforms; they are most likely to make a purchase by making that transaction through a third-party site, instead of having to go directly to your site at a later date. If they do not, it can result in a lost lead.
With Instagram allowing you to tag products, Pinterest, also has the function to add products through the addition of pins.
By creating active and inspiring social commerce pages on the platform (suited to your target audience), you can scoop up those customers who are most likely to get lost later down the funnel. A smart and savvy method for quick sales; social commerce is a strategy that should be incorporated in your eCommerce site; alongside the rise in popularity of social media.
Summary
Consumer purchasing behaviours are continually changing. With a reduced attention span and an eye for a promotion or a discount, by nailing your eCommerce marketing strategy, you can convert these leads into paying customers at checkout. For those eCommerce sites that are seeing a large volume of customers abandoning their checkout; consider looking at these tips and seeing if there is anything that you too can improve.
What has also been highlighted; is that it is not just the price and promotions that can influence potential customers, but also the delivery and the ease of returns. We are living in a fast and dispensable world; where customers expect to be able to return their goods free of charge at their leisure.
Along with speedy delivery and returns; it is also advised that customers consider a buy it now and fast checkout options. It is suggested for across both their site and social commerce sites too. This allows customers to quickly add the product to the basket; before disappearing elsewhere on the internet to hunt for a better deal. By catching customers early and influencing them with free delivery, as well as discounts for email marketing, you can convert customers whilst communicating and targeting them with suitable offers in the future.
To master a marketing strategy, it is recommended that your produced copy and online content is SEO optimized, but also that you are creating and paying for pay per click ads in google.
Two vital areas that should not be forgotten. Important in generating organic traffic, but also in creating appropriate ads to your chosen audience. These two areas can hone in potential customers before hitting with unmissable offers and promotions.