UK Hot Tubs are one of the UK's leading Hot Tub servicing and maintenance companies. We posed this question, 'What does a hot tub service consist of?' to them and this is what they said.
We recommend that your hot tub under goes a hot tub service at least once a year to ensure it retains its performance level. Our fully trained team of staff will come to your home and perform the following checks.
They will:
–        Remove and chemically treat all filters
–        Performa a full drain down and chemical flush
–        Clean the entire hot tub including, jet internals, cabinets and panels
–        Remove and clean head rests or replace where necessary
–        Check all seals and replace where necessary
–        Rinse and refit filters
–        Replenish with water, including water chemistry treatment
They will also check all the electrical components including pumps, blowers, ozone and heaters by carrying out an RCD performance test.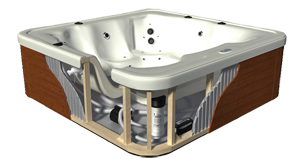 In addition they will perform function checks on:
–        All accessible plumbing pipe work
–        Heater Tubes and Terminals
–        Filter and circulation impellor
–        The air controller
–        All valves
–        The water diverter and the variable boost control function
Before leaving a full spa function check will be completed and a report will be presented to the owner with coverage of our visit and advisory points for things you may need to consider look at in the future. Consider it a bit liken an MOT for your hot tub.
One trained individual usually carries out our hot tub services. In the event two show up, please don't be alarmed you won't be charged any extra. The chances are the secondary person is in training or monitoring the one carrying out the service for internal staff checks. Please note we need hot tubs to be full one arrival as we use the contents to help flush through the pipe work. For a full breakdown of our service and all steps needed to be taken in the build up to a hot tub service, please visit our website.