Every New Year brings hope, new plans, resolutions, and new adventures with it. But the year 2020 had something else for us. As paranoia around COVID-19 took over our lives, partying became a distant dream. 
Gradually, we all have come a long way, and it is quite impressive as to how we all have managed to be content with ourselves at homes, respectively. But there is one thing that everyone misses: socializing.
Reminiscing the old weekends where one would go out and enjoy drinks and dance around with their friends, many social birds have started thinking of new ways to enjoy. At the same time, everyone's trying to adhere to all social distancing guidelines. One great way to do this is by throwing a cocktail party online. 
Here are some simple ways through which you can throw a virtual cocktail party:
1. Finalize The Platform To Host The Party
With a great party comes great responsibility. Ways of throwing parties have become entirely different as millennials have switched to being present online through video conferencing. Previously, we were stuck to skype calls or zoom calls only for official purposes, but now we can utilize them to have fun. You can look for a platform that lets you make calls without interruptions. 
Many applications like Zoom, Google Duo, Google Hangout, and Skype let you have video calls with 20 people. So what are you waiting for? Go check out the features of the applications and mark your friends' calendar for a party.
2. Select Easy To Prepare Cocktails
Select a cocktail menu that is easy to make. It will be best to choose from a wide variety of beer cocktails, homemade LIIT, Cosmopolitan, Whiskey Sour, etc. Remember, it will be easy for everyone to make a cocktail for themselves if they have the base drinks. There might be a high chance that liquor is not available at everyone's place due to the lockdown period. So, stop feeling awful about not having a drink in hand. You can choose any non-alcoholic beverages too. This will add to the menu as well.
Here are a few drinks that are easy to make at home:
Sangria

Cosmopolitan

Whiskey Sour
3. Decide The Guest List And Send Invites
Now that you are not going out, it has become challenging to keep in touch with everyone. So, it becomes necessary to decide who needs to be invited to the party. The invitees should know each other so that it's easier to break the ice over a virtual get-together. Invitations bring a personal touch to an event. Since we are at home during the COVID-19 times, a virtual cocktail party will be a unique event and a refreshing one.
So, check out some of the best mobile apps that can help you create invitations for your guests. Go for creative templates and send them over to every guest. This will help you be updated with the list and create excitement amongst everyone involved in the cocktail party.
4. Choose A Dress Code
We hardly get to have weekend parties now. There's no clubbing, no drinking session with friends, and not even cocktail parties for weddings. The pandemic has turned everyone lazy. Work from home has become the new norm, and everyone's getting too comfortable in their pajamas. Amidst lockdown, a party without proper dressing, is a complete no. Decide on a dress code that will add up to the party's excitement. Let's admit that during the lockdown, we have been in our pajamas and loungewear. 
Dressing up will lift your spirit and will energize everybody's senses. You can even have a party dress code related to the cocktail you wish to prepare for the party.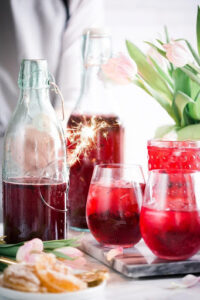 5. Select Easy To Find Snacks 
Everyone loves to have snacks till the time they do not have to prepare it. The party's main idea should be to enjoy everyone's virtual company and not be occupied in preparing snacks for yourself throughout the day. Buy frozen food to avoid getting drained by the time your party begins. After all, you want to be in the best of your spirits for the much-awaited virtual cocktail bash. 
Conclusion
Once everything is in place, let yourself loose and enjoy the time with your friends. This is going to be a different experience for all the guests at the party. You can play some cool online games and engage everyone during this time. Since you are the host, make sure that everyone gets involved and has a chance to share their thoughts. The main aim of the party is to enjoy and bring everyone closer virtually. So, make most of this and indulge yourself and your friends with long due conversations and fun. After all, who says you can't have fun at a virtual cocktail party? Safety should be your priority but make it glam.