Whilst there is something incredibly 'grass roots' about lower league or social sports teams it is starting to get to that time of year when luke warm showers and nowhere dry to store you clean clothes is starting to take its toll. The installation of modern, clean, contemporary changing rooms could not only improve the value of your asset portfolio but also improve the experience of sports team members and attract new members to your club.
Did you know that modular changing rooms are available and can be procured in conjunction with both grant and lottery funding?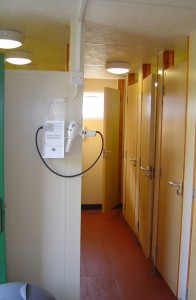 Modular changing room supplier Convenience Services Limited are strong supporters of sports clubs and facilities who are looking to improve their facilities and invest in their clubs through the use of funding. If you are looking to install modular changing rooms into your facility then they will fully support you in your plans to acquire funding by providing all information and plans required as well as back your application throughout the process.
Convenience Services Limited are experts in the design, delivery and installation of modular changing rooms so are the perfect partner in assessing what is best for your facility. There are a range of case studies available on their website
http://www.sportschangingrooms.co.uk
which can give you a good idea of just what you can achieve.Showers, toilets, compartmented spaces and disabled access are just some of the features possible in modular changing rooms but others ideas are always open for discussion. To learn more about Convenience Service limited or discuss them supporting you in a bid for funding for modular changing rooms, call them on 0845 006 0737 today!