Just like you can hardly get by in your social life today without having a social media presence, you'd be hard-pressed to get by in the business world without a LinkedIn profile.
If you haven't already signed up, you need to ASAP.
Everything these days is connected to a computer, and your career is no different. If you want to get ahead, you have to put yourself out there. LinkedIn is designed to showcase what you have to offer the business world.
Here are the main reasons why every business person should be chomping at the bit to set up their LinkedIn profile: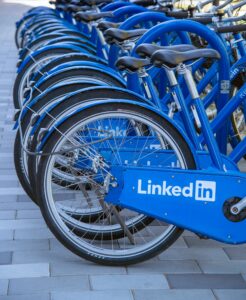 1. Stay in the Know
LinkedIn is the best way for you to keep up with the companies you're interested in working for.
Businesses use LinkedIn to post updates on the goings-on within the company. You can find all sorts of information from current employees, job openings, and the most recent company news.
In the event that you decide to apply to the company, it's a fantastic resource to have access to.
On a broader level, LinkedIn makes it incredibly easy to keep up with your chosen industry as a whole. All of the news and informative articles are there in one place so you don't have to search elsewhere for them.
Overall, LinkedIn is one of the best tools for research.
Whether you just want to keep up with the times or you're hoping to land your dream job, you can find pretty much everything you need to know through LinkedIn. 
2. Keep Up With People You Meet
We won't get into the importance of networking right now, but you must know how essential it is to create reliable connections within your industry. It's the same as having a safety net under your tightrope.
It's never a bad idea to have something to fall back on when you get into trouble.
With a LinkedIn profile, forming and maintaining relationships is so much easier. It's a one-stop-shop for all of your contacts that you've made since you started your career.
That catalog of business cards in your drawer should be jealous.
You never know when you're going to need to ask your connections for help. Life has a way of surprising you and changing at the drop of a hat. That's when your safety net really saves your butt.
Having your entire network in one accessible place will make finding your feet a piece of cake. 
No more forgetting your important contacts when you need them most!
3. Simplify Your Job Search
LinkedIn isn't just a great tool when you're already into the business world. It's a fantastic resource for anyone trying to find the job they've always wanted. It does everything for you!
You can search for companies and see their job listings right there on the platform. 
No more combing through various sites hoping to see the perfect opening pop up in your search. No more calling out to companies hoping they have the position you want available. It's as easy as a click to find that information.
And if you're in a job that you don't necessarily want to stay in forever, you can make your resume visible to recruiters without actively applying to positions.
A whopping 75% of job recruiters use LinkedIn to look for potential hires. They know that's where the talent is, and they want people who are already doing their best work so they can snatch them up.
You can even turn on the privacy settings to ensure that no one in your current company finds out you're looking at other jobs.
Having a complete LinkedIn profile is the best way to get noticed by recruiters without having to do any work on your end. Then you can get connected to a job that's even better than what you have now so you can move up in your career.
4. Make a Good First Impression
Google favors LinkedIn above other social media profiles, which is amazing for your business presence.
What would you like a potential employer to see first when they look up your name? A winning profile highlighting your skills and achievements or your vacation photos from last summer on Facebook?
Exactly — it's not a tough question.
Making sure your LinkedIn profile is complete and up to date is how you get it to rank first on the page when someone Googles your name. And trust me, employers are going to search your name.
When your LinkedIn profile comes up first, it sends a message that you are who you say you are and that you can do what you claim you can do.
Showcasing all your achievements and amazing skills is how you put your best foot forward in the business world. Don't you want companies to see that before they find your existential status updates from 3 a.m?
5. Strengthen Your Personal Brand
While LinkedIn is meant as a business portfolio, it doesn't completely erase who you are as a person. In fact, it gives you a chance to showcase that part of yourself for the people in your life who you know personally.
Your profile holds far more information than just your resume.
One of the best ways to stand out on an individual level is to add recommendations to your LinkedIn profile. You can collect them from people you've worked for and people you've worked with.
Before you ask for a recommendation, make sure you know it will help you out. And always be willing to return to the favor!
Recommendations are just another way to build up your brand as a professional. You can't go wrong having people say nice things about you.
In Conclusion
If you're serious about making it somewhere as a professional, you need to make a LinkedIn profile. There are no two ways about it and no way around it. These are the times and you need to get with them.
Hopefully, you see that and you're already well on your way to completing your profile.
With a LinkedIn profile, you will have all the advantages of social media in your hands to apply to your career. By now, there should be no question about why you need to make a LinkedIn profile. 
And if there is, just read the article again!
Author Bio:
Caitlin Sinclair is the Property Manager at Escaya, a luxury apartment community in Chula Vista, CA.