SEO itself isn't very complicated, you put good quality & keywords drive content to use, you look into the technical issues such as website loading speed & crawling/indexing problems and you acquire some links from a few authoritative websites. 
Doing all this, the entire goal is getting rankings and as a result, traffic. But how often do we see things going that simple? Not as often. Even the best SEO services can fail if it's not covered from all corners. 
SEO campaigns can be hard to manage even if SEO itself isn't rocket science. And there are many factors that need to be looked after to make your campaigns worth the effort.
Although it solely depends on the way you're handling your campaign, still there are plenty of common areas which are mostly mishandled or where mistakes are made which makes the campaign fail. 
Let's dive right into those mistakes. 
Let's just be very clear about what "Poor" means here. The content on your website would be as good as the user gets it. You could have written an amazing piece of content, put the right keywords in it & the grammar was good as well. 
However, there can be a chance that the content was still not up to the mark. A few of the reasons for which could be;
Content doesn't fulfill the search intent

Not targeting a specific keyword

Not competent to the already ranking results
Let's take an example for better understanding. If you thought of writing an article on Shopify VS Woocommerce and your blog post's title looks like; "This is my favorite Ecommerce platform!" you aren't targeting any keyword people are searching for. 
A better title would be "How to Garden Roses?" Also the latter title fulfills the search intent where the searcher needs a direct answer to a specific question. Otherwise, your chances of ranking your article for that query are slim to none.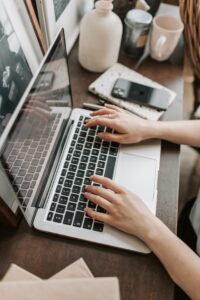 The impact of UX on SEO is undeniable. With user-driven metrics such as bounce rate & behavioral indications assessment such as pogo-sticking, no website can get away with a bad user experience. 
But what does user-experience include basically? A lot of people only think about good visuals & designs when it comes to UX. Although these are prominent parts of it, user-experience isn't composed of that alone. 
Talking about good UX, this is what you should aim for;
Quality visuals & appealing graphics 

Website loading speed

Fulfilling search intent

Efficient headings distribution

Structured formatting & much more
 As a whole Google makes your website give pleasure to the visitor landing on your website, otherwise it just won't be able to climb up on those rankings. 
Problematic Backlinks Profile
Links are the backbone of your SEO performance. Irrespective of how many times, some "Gurus" claim that links are dead in 2020, they still matter. It's the best-known criteria Google does a check on your website's popularity & credibility on the basis of. 
Although the nature of backlinks also plays a huge role in its impact, generally speaking, the more backlinks you have, the higher you'll rank in SERP.
Another important point to mention is that you have to look at your backlink profile as a whole and overall it should be clean. As your website starts getting some traction and your manual link building gets you some rankings, your website also earns links on it's on. 
This could include;
Spam links

Irrelevant links

Links from illegal websites 
In most cases, these links are going to affect your search rankings. You have to look at them and judging their quality you either keep them or disavow them, but you have to be conscious of your website's backlink profile.
Over Optimization With Keywords
One of the most commonly made mistakes in SEO is over-optimization with respect to the keywords. Targeting a specific set of keywords makes perfect sense and does come under the umbrella of "how SEO should be done". 
However, where most of the SEO campaigns are caught up is overusing the same targeted keyword everywhere, irrespective of how much sense it does make.
For example, a few of the best SEO practices mention putting the targeted keyword in the Title, URL & description. However, it doesn't advocate for chasing a particular keyword density value, writing all ALT tags the same as the keyword, or using the same keyword multiple times to internal link as an anchor text etc.
 Such an unnatural approach can easily backfire. Google doesn't compromise on the credibility of the information it presents to the user. Thus, if it senses your website trying bad things just to come higher on the SERP it will make it fall down instead. 
Choosing Keywords that are too broad
Finding keywords isn't just about searching for some high volume terms. Your choice of the keywords you want to target depends on various things. Simply ask which includes;
What your target audience is

What you have to offer

What your brand is all about
What makes most of the SEO campaigns fail is that they targeted keywords that have various authoritative blogs already ranking for on the first page. Which makes it too hard for your website to rank?
 This doesn't mean that if some well-established brands are ranking then you should aim for those competitive keywords. But there'd be a much more extra effort involved to compete for those terms. 
Thus it's always a good idea to find long term keywords and variations which aren't very competitive and still have some potential of driving customers for your business. 
Over Optimizing Anchor Text
Building links are crucial, we've established that already. However, an important factor of the link building efforts is anchor text. Through various studies, we know that anchor text can help you climb up on those rankings for any particular keyword you chose the anchor text on. 
However, there's also something called over-optimizing anchor text. Treating Google just as a robot that won't detect any unnatural pattern in links won't be a good idea. 
For example, let's say your targeted keyword is "best laptops under 500$". If you choose an anchor text of "best Laptops under 500$" for each of your backlinks, you'll see a diminishing result in your rankings.
A good alternative to balancing anchor text optimization would be to use variations in the anchor text. Sticking to the same example we can go with; "best laptops in competitive pricing" as anchor text and that'll keep things clean.
Absence On Social Media Platforms
Social media is probably the most ignored area when it comes to SEOs. Almost no one cares about their brand's social media presence as a support system for their SEO campaign's success. Even though Google has clearly stated that they look at social signals as a ranking factor. 
Even if we put the social signals as a ranking factor aside, social media can be a great source of traffic for your website. And with the emergence of the latest social media platforms like Tik Tok & platforms which are rising in usage, such as LinkedIn, they have a higher organic reach. 
Thus, you won't necessarily have to spend money on ads to get more exposure for your brand. Another thing is that these platforms can help build brand awareness which means branded searches for your website on Google can also increase. 
Not Tracking the Results Regularly
SEO is all about the results. It doesn't matter how good of a keyword you found, how many links you built, or even how many visitors you get unless your website is helping your business grow. 
Many digital marketers simply don't track their SEO performance regularly which makes it hard for them to assess if they're headed in the right direction in the long term. 
Three important things to look at when reviewing data;
Google Analytics (traffic channels, audience, bounce rate etc.)

Goals completion in Google Analytics
Google search console (keywords you're ranking for, CTR, avg positions etc.)
Ideally, you should look at your website traffic at least weekly and to track the overall performance monthly. This would give you an idea of how successful your campaign has been so far and what your next steps should be. 
Conclusion
Although going through the entire list mentioned above it feels like SEO is a complex task and one would need to focus on too many things to make it go well. But the reality is that you just have to make a clear distinction between the algorithm and the user.  
Developing content for the algorithm means just the right placement of keywords, but you're not supposed to serve a robot. At the end of the day, it's the user who is going to consume all the content and information available. 
Thus, your consumer should be your primary target with all your SEO practices. 
 If you're looking for an SEO Agency there are a variety of different sectors out there such as Shopify SEO, WordPress SEO, Local SEO and eCommerce SEO.